Crystal Waters Slots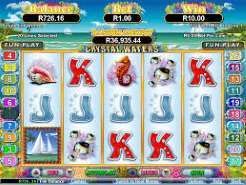 Current Jackpot
$2,007.23
Play Now
There's something very relaxing about sea-themed slot games, and the same is true for Crystal Waters , the latest Realtime Gaming creation we're testing out. This game comes loaded with decent prize payouts and one nice feature. That doesn't make it worth playing through. While we can't recommend this slot to everyone, we encourage you to read through our full review to find out if this game fits your needs well or not. It does have some nice features to offer and will make some gamblers very happy.
A Clever RTG Creation
Having tested out dozens of different titles, we're big fans of Realtime Gaming and the different slots that they put out. These casino games are known for running well, for their mobile optimization and for being rich with character. All of those qualities show through when testing out Crystal Waters. The symbols are all nicely drawn and enjoyable to look at. The game is set over a beautiful backdrop that will have you wanting to come back for more and the game is designed for simplicity. That means that wagering, selecting options and everything else can be done conveniently. If you're searching for a solid slot game, this one is at least well designed.
Demo This Slot Game
If you want to get a feel for the slot for yourself you can do just that using the Demo mode feature. This powerful feature makes the game run like normal but uses a play money balance in the process. Loading the game up takes just seconds and you can test it out without even making a deposit into the casino in order to do so. That makes it simple to find out whether you like the slot or not.
A Highly Rewarding Progressive Jackpot Experience
This game comes loaded with a random jackpot payout that is worth thousands of dollars. This jackpot is one of the most exciting elements of this game because it can be triggered at any time and it's huge. This jackpot is just one of the ways that you can get a big win from this game though. You can also get a high-paying fixed jackpot payout too, especially if you have help from the 2x dolphin wild that will transform the high-paying sea turtle from a value of 2,000 coins up to 4,000 coins.
Adjust Your Paylines and Bet High or Low
Crystal Waters is a slot that's big on choices and gamblers have plenty of them to work with when they're trying to figure out how to get started. From the moment that you begin playing this slot, you'll be able to choose to turn on between 1 and 20 paylines. On each of those lines, you can wager a low of $0.01 and a high of $5.00. With that amount of flexibility, it's very easy to wager a low amount with a minimum of $0.01 per round possible and a high amount with an excellent $100.00 upper limit available per turn. Those limits and options are sure to satisfy most gamblers that pick up this slot game and we were pleasantly surprised to see them as well.
Pays are Best with the Dolphin
The clear star of this slot game is the loveable dolphin. This little guy serves as the wild and fills in for all but the scatter symbol. Not only that, but it's a 2x multiplier and will double any prizes he helps create. That means with help from the dolphin you can get a 4,000 coin win using sea turtles, 2,500 coins from the cluster of fish, 2,000 from sea horses or conch shells and hundreds of coins from the various card symbols. The dolphin appears frequently and is one of the keys to winning big while playing.
Scatter Free Spins
The only bonus round in this slot is the free spin bonus that's triggered by three or more of the yacht symbols. Get three or more of the boats on the reels and you'll get 15 free spins and a chance at some excellent prize multipliers. While in the free spin round a bonus fish symbol shows up on the third reel. This fish is a wild with a 2x, 4x or 8x multiplier attached to it. The best part is that this multiplier will stack with the dolphin wilds. That means you could get up to a 16x multiplier on prize payouts from this slot. That means you could win up to 32,000 coins from a single win on Crystal Waters and that's surely a huge prize no matter what sort of wager amount you have in position at the time.
A Poor RTP Affects our Rating
Even though this slot game is a high-payer and offers some exciting prize payouts, it isn't the greatest game to play if you want to increase the size of your bankroll. That's because this slot only has an RTP of 95%. That's poor compared to other slot games that we've tested and it means that you'll be losing more of your money over time while playing this than more generous slot games. We still feel this slot deserves a 3.7 out of 5.0 stars though because it's fun, it offers solid prizes and it's exciting thanks to its one bonus round. It would benefit from a higher RTP value as well as some extra bonus features to make it even more entertaining.
Swap Between Fun and Real Money Modes
As a player of this slot game you have the choice to play for real money or to play for pretend money in Demo mode. Each time you go to load up the game you will be asked how you want to play and can decide whether you're there for entertainment or for a chance to win big. Either option is fine with us, but real money wagering with this game is more thrilling than playing for pretend. Give it a try for yourself and you'll quickly see what we mean. Overall Crystal Waters is an impressive slot game. It runs well on most mobile devices and you can bring it with you where you want without issues. This game is also highly rewarding and will make it possible for you to walk away with tens of thousands of dollars if you're lucky enough. Win the progressive jackpot or one of the massive fixed payment jackpots and you'll be glad that you played. Even if you aren't sure about this slot game just yet, you can take a few moments to test it out for yourself in Demo mode and get a feel for how it works before you begin playing.