Lucky Tiger Slots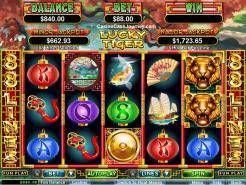 Current Jackpot
$4,398.46
Play Now
Think you have the luck of the tiger on your side? Then you might want to try out this slot game and see if you can land a big win. Luck of the Tiger is a Realtime Gaming slot that showcases a nice Asian theme and packs in some pretty interesting features. If you can get past the odd prize payouts and strange number of paylines (there are 88) then you might just come to like this game as much as we do. Find out what it offers in our review below or skip right to playing it for yourself!
A Chinese Themed Realtime Gaming Creation
Realtime Gaming is a well-known software developer for casinos around the world and the company has some beautiful creations. This slot looks a bit older though and the symbols aren't that impressive as a result. Even though we weren't too impressed by the looks of this game, we were alright wit the gameplay experience that it offers. The game's interface is easy to understand, there aren't a huge number of adjustments for you to make when you begin playing, and the level of wagering customization that's available is decent.
A Progressive Jackpot Slot with Two Jackpot Payouts
Lucky Tiger is a progressive jackpot video slot game with two different jackpot payouts. The Minor reward is worth hundreds while the Major is worth thousands. Both trigger at random and can be won at the conclusion of any turn of the reels. The possibility to unlock one of these prizes at any time makes this slot just a bit more entertaining, and it's one of the reasons we recommend it to other gamblers.
There are 88 Paylines
This is one of the few slots we've tested that have more than 50 paylines. That means when you wager on this slot you have an excellent chance of coming away with a prize payout, as long as you're willing to pay to have all 88 lines active. The minimum you can wager on each line is $0.01 and the maximum is $0.25. The betting range overall is $0.01 up to $22.00 depending on your line and line bet combination and this is a decent offering for low-stakes bettors and mid-level bettors as well. If you like betting more than $22 per spin you will be unhappy with this game, but most people will be more than happy with the wagering options they have available to them with this slot.
Odd Paying Symbols
Each of the different prize payouts of this slot end in an 88 which gives it a strange look. The best prize is the Golden Tiger that's worth 5,888 coins. Next is the garden that's worth 2,888 coins. The gong scatter will pay out up to 188x your total wager amount and there are many other good-sized prize payouts to win as well. This slot does a nice job spreading the prize payouts out and giving you many different symbols to look forward to unlocking.
Unlock One of Three Different Bonus Games
Getting three or more scatter gong symbols lets you pick between one of three different bonus features. These special features are random once you make your selection but will reward you with a range of free games and multipliers. Each game is very different from the others and that's part of the fun with this slot.
The Lucky Tiger Feature
If you get the Lucky Tiger feature you will get 8 free games with a 3x multiplier throughout the round. Getting scatters rewards you with additional free games throughout the feature in varying amounts depending on how many scatters appear on the reel on a single spin.
The Gond Feature
Trigger the Gong feature and you'll get between 8 and 18 free games. These games don't come with a multiplier but gong symbols will transform into Golden Tiger symbols at the end of each turn helping to increase the rate of high-paying payouts that you unlock during the game. If you get three or more scatter symbols on a free spin during this round you're rewarded with five more free spins.
The Fortune Feature
The Fortune feature is the most valuable of all and gives you 8 free games with seriously good prize payout opportunities along the way. The multiplier is the same as the spin number that you are on while playing this bonus game. That means you'll get up to an 8x multiplier. You can also unlock additional free spins with five extra for every three scatters you get during a single spin. During this bonus all the Gong and Garden symbols transform into Golden Tiger symbols at the end of the round. You're very likely to get at least a couple big wins during this special feature, which is very exciting when you add on that multiplier as well.
A Poor Return
Even though this slot game has a lot of features going for it, it only offers gamblers a 95% RTP value, which means that it's not as generous or as worthwhile to play versus many other slot games available today. Gamblers that pick up a slot in order to win money should skip over this option in favor of something else instead. With that said, there are some good reasons to play the game and we cover some of those below.
We Rated it
We give this slot game a 4.3 out of 5.0 stars thanks to its excellent bonus feature and huge number of paylines. It looks a bit dated and has weird payout amounts for the different symbol combinations, but there's a lot to like about this game and it's entertaining over the long term. The main reason we took away points was because of the lower RTP value when compared to other games.
It Works for Fun or Real Money Betting
You can play this slot in Demo mode or real money mode depending on how you want to gamble. New players will enjoy getting familiar wit the features without spending any money in Demo mode, but playing for pretend money won't ever be as exciting as playing for real cash prizes. We recommend new players start this slot in Demo mode and move on to real money gameplay after they are comfortable with it. Take some time to try out both options and decide which one you like the best overall.
Take Lucky Tiger with You
If you decide you're a fan of this game you can bring it with you on the go. It's fully compatible with most mobile devices and can be operated on smartphones and tablets alike. That's because it's designed to run right in a web browser and doesn't need to be downloaded like some other slot games. That's another perk of playing slot games developed by Realtime Gaming.

Realtime Gaming really hit this slot game out of the park. It benefits from a cool theme, shows off a unique number of paylines and is rewarding enough to be fun for long-term gameplay. If you're searching for a game with lots of bonus features or you like the look of this game it is worth playing at least once. It's fun and some players decide to stick with it for a long time after testing it out once.