Plentiful Treasure Slots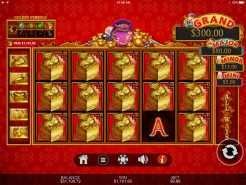 Current Jackpot
$12,274.59
Play Now
Try to unlock riches with the fun and exciting online slot game Plentiful Treasure. It's an Asian-themed slot all about winning a fortune and the symbols show off that fact. Everything is gilded in gold and even the bonuses are focused around gold and treasure. This slot seems dull at first glance but it has a lot to offer to interested gamblers. That's why we reviewed it and why we recommend you test it out at least once. Take a look at the game yourself and see whether it fits your playstyle or not.
A Plain Looking RTG Creation
Plentiful Treasure showcases a bunch of different golden symbols that look nice, but dull overall. Everywhere you look on this Realtime Gaming slot game you'll see gold, treasure or some sort of valuable. It's good that it has a clear theme, but it's also pretty dull. This game is a progressive jackpot slot and it offers four different jackpot payouts. The variety of jackpots range from tens of dollars up to thousands, and that helps add some variety and excitement to the game. Overall, we were underwhelmed by the appearance of this progressive slot, but it's clear there are features hidden beneath its boring exterior.
Simple and Ready to Try
Since there aren't paylines in this slot there is only one adjustment to make to change the wager amount as you play this slot. That makes this one of the simplest video slot games that you'll have the opportunity to play. That's great news if you're new to wagering or you just don't want to spend too much time learning a new slot. Either way, you can try this game for free if you want to get more familiar with what it has to offer. Want to test things out before you spend real cash? No worries. You can load the game in Demo mode and try out all its features immediately right when you open it up. Join the casino and test the features of this game right after. That's one of the perks of playing this slot.
Poor Wagering Options
If you like having lots of control over what you wager you'll be disappointed with this slot like we were. There aren't any paylines so there is nothing to adjust. Instead, you get prize payouts in a 243-ways-to-win cluster setup. The wagering system works as if there were 88 paylines. That means the minimum wager is $0.88 per spin. the maximum wager is a pretty meager $8.80 and you are free to move your bet around in increments between these two values. That's just not enough range in our opinion and high rollers won't want to touch this slot because of the lower maximum value. That's a major downside to this game, but it doesn't mean you won't want to play, it just depends on how much you are used to wagering when you game. If the bet values fit in your standard range this game might be for you.
A Cheap Paytable But Frequent Wins
You aren't going to get rich off a single prize payout on this slot. That's because the biggest win you can get while playing this game is just 680 coins on a single spin. that's nothing compared to most other video slots and not all that exciting at all. With that said, there are two wilds in this slot and a single scatter and one of those wilds serves as a multiplier that will help you win more. The pearl symbol offers up to a 5x multiplier and can give you some decent prize payouts as a result. Just be aware that you'll only unlock the maximum multiplier by having a maximum wager in place while you play this slot, so bet big to win big.
A Basic Free Spin Round
Getting three or more of the cauldron symbols unlocks the free spin bonus round. Unfortunately, you only get 8 free spins and no multiplier or any other perks at all. You can re-trigger the feature for another 8 free spins, but you aren't any more likely to get a win during these spins than you would during the base game.
The Gold Coin Feature
Collect enough golden coins during the base game and you'll unlock a chance at the progressive jackpot payouts. Now flip over the 12 coins and try to get three or more matching god symbols. Do that and you unlock one of the four progressive jackpot payouts. Don't get enough matches and you win nothing from this slot feature.
A Mobile-Friendly Game
This slot game is mobile friendly and will run on tablets, smartphones and more. You can take the game with you anywhere you like thanks to good solid design, and that's a nice perk about playing it. Other games require apps to play on tablets or smartphones, but this will function on Android and iOS devices just fine, so test it out for yourself.
The Progressive Jackpot is the Only Big Win Opportunity
This is the wrong slot game to play if you're looking for a big win. That's because it only offers payouts in the hundreds of dollars at the most unless you get one of the progressive jackpots. Most of the time you're going to play for lots of small wins to hopefully come out ahead. That's not as exciting as wagering for huge prize payouts. Even though the RTP of this slot isn't bad the payouts will seem boring to many gamblers because the prizes are so low.
Play for Fun or Real Cash
Whenever you try out this slot you can do so for real money or for play money. This Realtime Gaming slot works in Demo mode without money if you just want to test it out and see if you like it. We appreciate this feature because it helps new players get familiar with the slot and to see if they like the features or not. When looking for more excitement you can start betting real money and try to win one of those big prizes or jackpots. Plentiful Treasure is a cool little slot game but it seemed sort of bland to us. The symbols weren't exciting and neither were the features. We did enjoy how frequent this slot pays out prizes, and how often we earned credit toward the gold coin feature, but other than that this slot just felt too slow to us. We give it a 2.8 out of 5.0 stars and only recommend it to gamblers that want to win prizes on most turns even if those prizes are pretty small.