Santastic Slots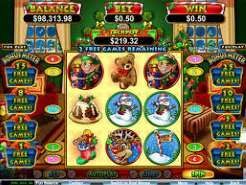 Play Now
Are you ready for the holidays? Or perhaps you just love Christmas? Either way, Santastic slot is an excellent online game if you're up for a bit of fun. This slot has a pretty standard 3x3 reel setup but offers a unique set of features that make it very enjoyable to play around with. Whether you are new to online slots, or you're searching for something different, you are going to love the different features that this slot has in store for you.
Demo the Realtime Gaming Creation
Realtime Gaming made this game, which is why it looks so nice and why it functions smoothly as well. The creators are one of the biggest software developers in the casino industry and they have created some top-quality games over the years. Like many other slots created by RTG, this one has a Demo mode as well. That means you are free to try it out for yourself without any risk at all. Just visit a RTG casino, sign up and try this game in Demo mode before you wager any real money on it.
A Cute Little Progressive Slot
If you like the holidays you'll love all the fun-loving symbols that this slot uses along with the snowy backdrop. Together all the designs are meant to get you into the holiday spirit. After testing the game we aren't sure whether to call it a classic slot, a progressive jackpot slot or something in between. It has a few elements of classic slots like a 3x3 reel setup, but with five paylines, many symbols and an intricate bonus system if it feels more like a video slot with a progressive jackpot prize payout possible. It's this unique design that makes the game fascinating to play, and why you'll certainly want to check it out to see if it's a slot that you're interested in at all.
Just 5 Paylines and a Small Wagering Window
Santastic is a slot game designed for low-stakes players more than anyone. The game has just five paylines that you can flip on and off. You can adjust your coin value from a low of $0.10 and a high of $5.00 each. That means you can wager between $0.10 and $25 per spin on this slot. That's an alright range to work with, but it's not as exciting as it could be with a wider range of wagering options to pick from. As a low-stakes gambler, you'll likely be happy with the options though, especially compared to other classic slot games that offer a much smaller betting window.
Just a 95% Return on This Slot
Some slot games offer a return on your money of upwards of 97%, although games as generous as that are pretty rare. This slot offers just a 95% return which isn't great. If you're looking for a game that's going to give you a decent return for your money, this isn't the one. However, if you don't mind a lower return and just want to have a good time, you might enjoy all the bonuses and special symbols this game has to make playing more interesting.
Small Prizes with Many Opportunities
This slot game doesn't come loaded with massive prize payouts like some, but it makes up for its lack of big wins by offering lots of chances ta decent prize payouts. There is a 2x and 3x wild symbol that will double or triple your prizes and they will stack up when they work together to make a prize. There's also a special bonus meter bonus round as well as a jackpot spin game that you can play for increased chances of winning prizes. The progressive jackpot prize is only worth hundreds of dollars, but you could win a good amount with some luck on your side while you play this slot game.
Unlock the Festive Feast Bonus
Anytime that you get a prize win with three symbols you unlock the Festive Feast bonus. During this special game, you get to grab a random prize from one of the two bonus meters. This includes massive payouts like 2500x your line bet, jackpot spins, free spins and more. The free spins that are awarded come with a 3x multiplier as well for a chance at some decent prize wins. If you get multiple three symbol wins during the same spin you will get multiple meter prizes as well as a result.
Trigger Jackpot Spins
The Jackpot Spins feature is awarded anytime a jackpot symbol appears right in the middle of the reels during the standard game. You also get them from the Festive Feast bonus meter with a bit of luck. During these spins, all symbols other than the Jackpot symbols are greyed out. You'll spin for Jackpot prizes and a chance at the progressive jackpot payout. You need three symbols on the same line to get the progressive jackpot payout, but two will give you 10x your wager amount as a prize.
Try Just for Fun
If you want to get acquainted with this slot you don't have to risk your money while doing so. Just play the free-play version of the slot to try things out. Do this and you'll have the chance to get to know the game in a safe and cost-free environment. After spending just a few minutes with the game in Demo mode you will know whether you like it or not and you can decide if you want to wager some of your bankroll on this slot at that point.
Play for Real Money
After you're comfortable with this slot game you can move on to playing for real money. It's easy to wager real money with this game as long as you have a valid account that's loaded with real cash. To do so you only have to choose the real money wagering option when picking the game, and then choose a wager amount that works with your bankroll. That is all there is to it and you can take a shot at winning some impressive prize payouts in the process.
Play on Mobile Conveniently
There's no rule saying that you can't bring your favorite slot games with you on the go, at least not when you're playing slots like this one. This slot is optimized to run on smartphones and tablet devices so you can take it along for the ride wherever you go. This is a huge perk of playing this Realtime Gaming slot and it makes it worthwhile to start playing if you like to gamble on the go. Android and iOS devices should run this game flawlessly and other options will do just fine as well as long as they have a modern web browser.
Santastic is an entertaining slot game with lots of prize-winning opportunities, but it pays out smaller prizes than most other slots we've tried from Realtime Gaming. Because of that we're only going to give it a 3.2 out of 5.0 stars. It's still a fun game to play around the holidays, but you might not want to stick with it outside of the holiday season. Give this game a test play and then consider some of the other video slots around as well.