Super Diamond Mine Slots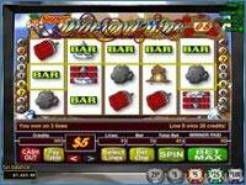 Play Now
In an attempt to take a classic 3-reel slot and turn into a 5-reel slot, we have to say Super Diamond Mine does succeed. It also succeeds in the payout department with a gigantic jackpot win if you bet the max and all pay lines. But in the case of this slot, the one-dimensional symbols are just ok - Nothing to write home about. Many players who enjoy classic slots will most probably enjoy Super Diamond Mine as it does have some redeeming qualities. We'll tell you about those qualities below.
About the Game
Because the theme of this game is about a mine, the symbols hold true to the title. At the top of the slot is the jackpot window. But it is the payable where you will access all the information you need to play this game. There several pages that include the symbols, payouts, special features, and rules of the game. We strongly suggest you read the payable. We also recommend that you bet all lines and the max bet as this will be the only way you can vie for the jackpot.
Playing the Game
This is a simple game to play, and it does have some very high payouts. Considered an older slot game, there is no Auto Play or cards in this game. The pay table will take you through all the symbols and payouts when any appear in a winning combination. If you get five Mines, for example, you will win the Jackpot. If you get 5 Diamonds, you will win 6000 coins. These are the two highest paying symbols. But note that there are no wilds are scatters or free spins in this slot game. However, there is a Bonus Game featuring the Diamond symbols. Collect the diamond symbols to create winning combinations. They can appear with other symbols and combine on a line to create higher payouts. The Diamonds also cascade. When they appear on a reel, they will slide across the reel in the direction they are pointing. As they slide over each symbol, they will drop into the symbol, thus increasing the number of diamonds that will payout.
Super Diamond Mine Bonus Round
With each spin, the diamonds that are present on the reels will be added to the diamond counter. When the diamond counter reaches 99, the bonus game will commence. Also in this game, the player can direct the miner to check out seven different mines by clicking on one of the entrances. Here you will accumulate bonus credits along the way. You can win up to 4950 by betting the max and playing all lines. However, the very top prize in this game is $250,000.
Play Super Diamond Mine Slots
At first when you view the slot you may be a bit disappointed at the payouts. However, if you stick to the max bet playing all lines, things will become quite interesting. Play Super Diamond Mine Slots at SlotoCash Flash Casino .