Victory Slots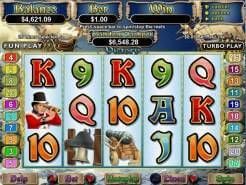 Current Jackpot
$3,634.21
Play Now
Journey back in time to the days of English explorers and vast uncharted oceans in Victory, the Realtime Gaming progressive jackpot slot game. Wins aren't remarkable with this slot, but it has a certain charm about it that makes it hard to resist. Everyone should give this slot a test play or two, but if you're not sure you want to do that we've assembled this review for your viewing pleasure. Follow along to learn what the slot has to offer and you might just decide it's worth testing out after all.
Crafted by Realtime Gaming
Realtime Gaming is a respectable slot development company. It's well-known for making clean and polished slots, most of which are laid out the same. That's true of this slot as well, which means if you're familiar with Realtime Gaming slots you'll feel right at home here as well. The slot looks nice, it plays smoothly and it's built with mobile support designed into it as well. That means you can bring the slot game on the road with you to friends' homes, the local café or anywhere with a good internet connection. Forget about annoyances like software downloads with this game because you can just load it up and play. It's all very convenient and nice.
Load the Game up for Free
The moment you create that free account at a Realtime Gaming casino website, you'll have access to the demo version of Victory. That's good news if you're looking for slots to test out. You can load the full game up in your browser and play it with a pretend account balance. Play long enough and you'll get to experience the bonus round and everything. There's no better way to get to know the game without spending money, and when you grow tired of playing for pretend, you can make a deposit and switch the game over to its real cash mode. It's easy toggling back and forth depending on what you want from the game.
Become a British Explorer
Everything about this slot game screams British explorer in the 1400s and 1500s. From the big billowy sails and large imposing ship masts in the backdrop to all the colorful crew members and ship machinery, you'll feel like you're sailing around the ocean searching for land with this slot game. We don't like the look of the card symbols in this slot game, but all the other symbols are nicely designed and go very well with the theme of this game.
Customizable and Easy to Use
This game comes with a few nice customization options and it is all laid out simply for easy use as well. Use the settings menu to toggle Turbo Play on and off to control how fast the reels turn and how much time is spent on different animations while you play. Switch audio on and off to change the mood of the slot and easily make use of the basic Autoplay feature to get the reels turning without your input when you're ready to give your fingers a break but you don't want to end your gambling session just yet. There's a single row of controls at the bottom of the screen, and you can do everything you need to with those simple buttons.
Bet Freely
You won't have to limit yourself in terms of wagers with this slot game, well unless you like to bet really large amounts that is. That's because you can bet a low of $0.01 and a high of $100.00 with this game. There are 20 paylines total and you can turn them on and off at will. Wagering is so free and exact in this game and you can pinpoint the amount you want to wager precisely before you spin every single time you play.
It Comes with a Simple Paytable
What you see is what you get with the paytable for this slot. The biggest fixed prize payout comes from the captain and he's worth up to 10,000 coins for five of them. Next is the man with the telescope and he's worth 5,000 coins. The cannon or bell are both worth 2,000 coins for five of them. The rest of the symbols are worth considerably less, though you can get a 100x payout times your total wager amount with five scattered flag symbols. There aren't any tricks like wild multipliers or other special symbols to worry about in this slot, which helps to keep the whole experience straightforward.
Some Winners Walk Away with Tens of Thousands
There's the potential to win very large prize payouts with this slot game with the right combination of symbols. During standard gameplay you could win up to 10,000 coins or up to $50,000 in cash. During the free spin bonus round it's possible to walk away with up to 40,000 coins or $200,000 in cash for the big bettors among us. That's a whole lot of money and enough to make high rollers excited about this game.
A Free Spin Bonus with Major Multipliers
Three or more flag scatter symbols triggers the free spin bonus round. During the round, you'll have between 12 and 50 free games overall. Every single win gets doubled as long as it doesn't contain a ship wild. Wins using ship wilds have a 4x multiplier applied to them. That means you could win 40,000 coins from a single payline with a mix of ship and captain symbols while playing this game.
Our Final Rating
Victory is a fun slot game with a nice look and a pretty intense bonus feature with the potential to pay out generously. That's why we don't feel bad giving it a rating of 4.2 stars out of 5.0. If you're one of the fortunate few to trigger the bonus with 50 free spins you'll likely walk away with a boatload of cash as a result. There isn't much to criticize about this game other than maybe it's small progressive jackpot. That's why we gave it such an excellent rating and why we recommend the game to anyone that likes video slots with large prizes. Whether you enjoy the graphics, the prizes or the bonus features of this slot game there is something for everyone to love. Our only real criticism is that this high variance slot will leave you waiting for a big win for a long time and you may have to go without payouts for many spins. This is hard for some players but others appreciate the larger-than-average prize wins as they come.