Football Fortunes Slots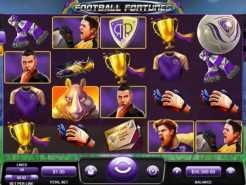 Current Jackpot
$3,827.94
Play Now
Football Fortunes slots starts with one choice. Are you Team Fortune or Team Rhino? From there, you'll choose your bet. Coin values are a penny to $1. All 50 paylines are automatically activated. Control the size of your wager by adjusting the coin value. Autoplay is also available. The final option is the lightning bolt control that speeds up or slows down the speed of the reels. Once you've made these choices, spin the reels.
How Much Can You Win in the Base Game?
The base game pays a prize when you get two or three matching symbols on a payline. Most symbols require three matching symbols, but you just need two with the bearded player. Payouts on the paytable are as follows:
Gloves or Cleats – 5 to 200 coins
Scarf or Ticket – 10 to 200 coins
Trophy or Jersey – 20 to 200 coins
Ref and Player – 30 to 300 coins
Crest – 50 to 500 coins
Bearded Player – 5 to 500 coins
The rhino mascot scatter pays 2 to 500 times your total bet. This leaves the wild ball. It's a stacked wild. When the wild ball is part of a winning combination, you win a 2x multiplier.
Benefits of One Mode Over the Other
When you play in the Rhino mode, you win up to 100 free spins when three or more rhinos appear on the reels. The number of free spins is awarded randomly from a range. Three scatters gives you 8 free spins. Four scatters give you 10 to 25 free spins. If you get all five scatters on the reels, you get 50 to 100 free spins. Free spins in Rhino mode have a 3x multiplier attached to them. In the Fortune mode, you randomly win 8 free spins from time to time. You don't need to get a certain number of symbols in the Fortune mode. The bonus mode triggers by itself when it feels like it. You can go multiple spins in a row and trigger free spins. You never know when the bonus will hit in the Fortune mode.
How to Trigger the Penalty Kick Bonus Game
There's an added bonus in either mode. Some symbols in the base game have a small soccer ball in the corner. If there is one soccer ball on each reel, you win the Penalty Kick bonus round. In the Penalty Kick bonus game, you choose where to aim the ball. If you get past the goalie, you win. If not, keep trying. You can miss twice. For each successful kick, you win these prizes:
1 goal – 3x
2 goals – 5x
3 goals – 7x
4 goals – 10x
5 goals – 20x
6 goals – 25x
7 goals – 50x
8 goals – 100x
After getting 8 successful kicks or missing twice, you have one more chance. Make a goal and win a kick with the golden ball. If you make a goal with the golden ball, you triple your bonus prize. If you are successful with the first golden ball, you get a second one. You can win up to 900 times your bet in the Penalty Kick bonus round.
A Few More Notes About the Slot Game
There are two progressive jackpots. Both are awarded randomly when the computer decides to. The Minor Jackpot is usually in the hundreds while the Major Jackpot is worth over $1,000 typically.
Software Provider – RTG
Paylines – 50
Betting Options – 1 penny to $1
Max Win – 125,000 coins
Slot Game Type – 5 reel bonus slot, jackpot slot
Slot Game Theme – Sports/football/soccer
Slot Game RTP – 97.5%
Look for Football Fortunes slots at leading RTP casinos. It's a lot of fun, and there's added enjoyment thanks to the option to change how the game is played. Play for real money or fun today.