Ancient Egypt RTG Slots
If you're like most online casino gamers and cannot resist a good themed slot, then the Ancient Egypt RTG Slots that are present in the Slotocash Flash Casino Lobby are a great start with which to whet your appetite. You can gain immediate access to all manner of video slots and related categories just by signing up, upon which you then just download the casino software in order to enter the games for real money - which is the only way to obtain access to cash and prizes. All of these are games of luck and diligence, so be sure to play responsibly. Check out the New Games section, the Progressive Slots section, the 3 Reel Classic Slots and the 5 Reel Video Slots at Slotocash. In the following, we'll go over a handful of Ancient Egypt RTG Slots for your edification.
Boy King Treasure Slots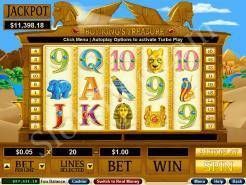 This is a 5 reel, 20 payline video slot from Real Time Gaming and possesses a random jackpot to go with the many multipliers, scatter and wild symbol. You might have seen the interface before; that's because it used to be called King Tut's Treasures, but was changed to the present name for some reason. The symbols on the reels are of idols and other emblems associated with one of the greatest and most expansive kingdoms that ever existed. Ancient Egypt holds a torch to the Byzantine, Sumerian and Assyrian empires of old - even to those of Greece and Rome. Although you can play this one for free, the real money game is where all of the action is at.By downloading, you can put up a wager between 0.01 credits and 5 credits for every single payline - with a maximum of 100 credits for an entire single game. The Boy King, himself, serves as the Wild symbol and he doubles any resulting payout when he appears with the other paying symbols. The Cobra is the Scatter, and it cannot be replaced by the Wild, but it unleashes plenty of other benefits to the online slots gamer.
Cleopatra's Gold Slots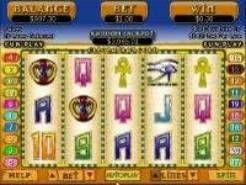 This is yet another video slot from casino maker Real Time Gaming with the Ancient Egyptian theme. It's in veneration of the mother goddess, which, although a spiritual abomination, still makes for a darn good pokey! The signs are simple but easily recognizable, with a jade cat idol for the appropriate god, the Eye of Horus for the Egyptian manifestation of the Babylonian transgressor, Nimrod - who was a mighty hunter in opposition to the Lord. Although this is an interesting backstory, it is meant only to highlight the actual gameplay and not to replace it. You'll also find the poker card suits serving as the low paying filler symbols to expand out the game. With 5 reels and 20 paylines, you can marvel at the prospect of winning an impressive $10,000 on a mere $20 bet with the Cleopatra's Gold game jackpot. Or, perhaps luck will really be on your side and you can snag the other jackpot of $30,000 on a $9 bet. Whatever you do, survey the games paytable for an accurate assessment of the symbol values so you know whether to jump for joy or spin again when the reels come to a halt. Download and enjoy Cleopatra's Gold slots today.
Caesar's Empire Slots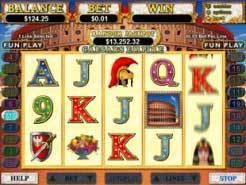 With 5 reels and 20 paylines, Caesar's Empire Slots is a Real Time Gaming member of the Ancient Egypt RTG squad that has a good sized number of ways to win. If you're a real money gamer, then the range in coin sizes will be quite agreeable to you: bet from a penny up to $5 per line. For example, on a bet of just $20, it is possible to come away with a jaw-dropping $2,500 if you manage to line up all five of the bonus Cleopatra icons in Caesar's Empire Slots. This symbol, as you might have already guesses, is the Wild symbol and it can replace any other icon except for the Scattered Coliseums. For that matter, if you get a couple of Coliseum symbols, then you are rewarded with the amount of money you bet times a factor of 2. For 3 Scatters, you win triple your bet, for 4 Scatters you win ten times your bet, and for a full house of 5 Scatter symbols, you get 100 times your wager! As for the paying symbols in the game, we will now go through the ones of interest. Starting off with Queen Cleopatra, for five of a kind you can win 2500 coins. For four Queen Cleopatra symbols you can win 250 coins, for three Cleopatra symbols you get 50 coins and for 2 Cleopatra symbols you can win two coins. If the Caesar substitute coin symbol appears as one of the row of five of a kind with Cleopatra, then your payout is ballooned out to 7500 coins. The next high-paying symbol is the Roman Soldier Helmet. For 5 of a kind of the helmet, you win 500 coins; if Caesar's coin appears this is tripled in value to 1500 coins. For 4 of a kind of the Helmet symbol you win 100 coins; this is tripled to 300 if Caesar's coin appears - and so. The final two symbols in this great video slot are the Shield and the Bouquet. For 5 of a kind of the former, you win 200 coins. For 4 of a kind of the Shield symbol you receive a payout of 450 coins. Get 3 of a kind and you win 15 coins, and one of a kind of the Shield gives you 2 coins. All of these values are tripled if the Substitute symbol replaces one of them. As for the Bouquet of Roses icon, 5 of a kind gets you 150 coins; 4 of a kind is worth 25 coins, 3 of a kind gets you 10 coins and 2 of a kind is worth 6 coins. Add the Caesar's coin symbol and triple these, as always. The remaining symbols are the low paying ones from the Table Game poker, and all details are included in the pay table online. Enjoy Ancient Egypt RTG Slots at your earliest convenience.