Basketbull Slots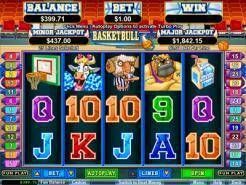 Current Jackpot
$2,585.32
Play Now
Basketball with animals? That sounds absurd and hilarious all at the same time. That's the theme that Basketbull the online slot game is based on and it's just the hook that got us to write the full slot review. If you're a fan of basketball and you're looking for a unique slot game to try out Basketbull might just be the game for you. It's not for everyone though and we'll explain why down below. Learn all about the slot and what sort of features it offers with our full review here.
This Entertaining Slot was Developed by Realtime Gaming
Basketbull is the brainchild of Realtime Gaming, one of the most well-known slot developers in the world today. The company is known for creating some pretty amazing games, and this one stands out among those creations as being one of the most unique. From ram coaches, cow cheerleaders, the bull Allstar player and standard basketball symbols you get everything you need to set the mood. The game is designed to stand out and to be unique, but it works just like all the other Realtime Gaming slots out there. You'll know exactly what to expect when you play the game and can pick out the options that appeal most to you in moments thanks to good design qualities.
This Progressive Slot Pays Jackpots at Random
No matter what size wager you have in play while spinning these reels there are two random progressive jackpots that you could win with any spin. These are worth hundreds or thousands of dollars depending on if you get the Minor or Major jackpots. Either way, these prizes are exciting to win, especially if you're wagering a smaller amount of money on the game. These values go up over time until someone finally wins one of the jackpots and the amounts get reset.
Bet at a Level You are Comfortable With
Every single gambler that tries this game as the freedom to wager at a level they are happy with. That's because so many different wager amounts are accepted. There are 25 variable paylines that you can switch on and off while playing. Turn more on to increase the chances that you'll win a prize, turn them off to save you money with each spin. You can also adjust the bet per line between $0.01 and $5.00 each. To win the most you will need to risk $125.00 per spin to max out the wagering options of this slot. To keep stretch your bankroll as far as possible you can turn your wager amount down to $0.01 per spin if you're willing to play on just one payline. If you want to have all the lines active you will spend $0.25 or more per spin.
The Paytable Jumps Around Big Time
The best prize you can get comes from the wild bull symbol. Get five of them and you'll win 10,000 coins. If you aren't fortunate enough to uncover the top prize payout your win amount will plummet big time. The second best prize payout is the cheerleader and she's worth just 2,500 coins. The next payout down is 1,250 coins, followed by 1,000 coins and 500 coins respectively. Any of those prizes would be good to win, but the really exciting win requires you to get a full reel of wilds. The game also pays handsomely for gamblers that get all five scatters and you'll win 200x your total wager amount or up to $25,000 from the feature.
Win up to 96 Free Games
It's possible to win up to 96 free games through the special bonus round in Basketbull. Get three or more scatters to start up the round, from there it's up to you to land free-throws to get free spins. You begin with 3 games free and each free-throw you land doubles your game number up to a possible 96 free games if you have five scatters and you land every one of your baskets. During these bonus rounds, all wins are tripled, which means you could effectively win as much as 30,000 coins on a single prize paying combination of symbols. That's a whole lot of cash for anyone, especially the gamblers betting big.
There are Huge Prizes to Be Won
We want to start by saying that most gamblers that play this slot game aren't going to win a fortune. With that said, there are some seriously good prize payouts available to players that have luck on their side. The two progressive jackpots are just the tip of the prize paying potential of this slot. If you're looking for bigger and better wins you can get them through the fixed prize payouts and the scatter prizes if you wager enough. You could win as much as $25,000 from scatters if you get five. You can also win 10,000 coins during the base game or 30,000 coins valued at up to $150,000 during the bonus game. With up to 96 free games in the bonus round, you could win a bunch of money throughout a single play session. It takes a lot of luck to land one of these huge wins, but it's possible to win big on this slot.
We Don't Like the RTP
RTP means return to player and it's a good way to measure whether a slot game is worth playing or not. The higher the RTP percentage the more of your money you'll get back as you play. Basketbull has an RTP value of 95%. That's not great for a Realtime Gaming slot because some others offer up to 97%. It's not terrible though because there are slot games with values as low as 92%. If you want to maximize your profit potential, Basketball isn't the best game to play.
Rating the Slot
We can't give this slot a rating higher than 3.4 out of 5.0 stars because of its lower RTP value, but we really like the slot anyway. It's fun to play, offers solid prize payouts and it has a fun theme. We still recommend you test it out, just don't make it your long-term slot game unless you don't mind losing money more than you have to.
You Can Play on Android or iOS
This slot was designed to run on just about any mobile device that you might have. That means you can take it with you wherever you go. If you want to wager at the café or just on the couch in your house, you can do so on a phone, tablet, computer or whatever you want really. The game is flexible by design, and that's very convenient. Basketbull isn't the slot game for everyone, but it's colorful, fun and pretty profitable with enough luck. It has a lower RTP than we like to see on slots we recommend, but the fun features help to preserve the value of this game and we still think most gamblers should test it out for themselves. Play for real money, or test it in Demo mode and then decide for yourself if you like this slot.