Fruit Frenzy Slots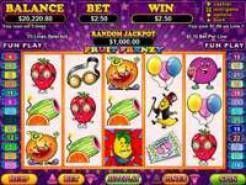 Current Jackpot
$3,634.21
Play Now
Fruit Frenzy is a fun and lively slot game that shows off living fruit characters all wit their own unique personalities. It's an entertaining slot from Realtime Gaming with surprisingly good prize potential despite the light and colorful appearance of the slot. Whether you're looking to have a good time, or you're looking to get rich, this progressive jackpot slot could deliver on both. We're happy to introduce you to Fruit Frenzy. Read our complete review of the game to find out what it has in store for you, or just try it out now for free with Demo mode. Either way, we want you to find out if you love the slot as much as we do.
A Game by Realtime Gaming
Realtime Gaming is known for being creative and making well-polished slot games. Both things are true of this game. The slot is loaded with special features and it's detailed nicely as well. Gamblers looking for some light entertainment will come to love all the special features of this game, and it's been professionally designed so it's easy to play as well. Realtime Gaming did a very good job creating this slot game.
A Cheerful Progressive Jackpot Game
Plums carrying popcorn show up on the reels of this slot, along with dancing pears, sophisticated bananas in suit jackets and more. This slot is about fun, it's about daredevils and it's a unique gambling experience if we've ever seen one. The game is set over 25 paylines, it has simple controls and it's something that any new gambler could pick up in just a few minutes.
You Can Wager at Comfortable Levels
This game is designed to make players comfortable with their wagers. That means whether you're looking to bet big or to conserve your money over time, you can do just that with this slot game. AT the high end you can wager up to $5.00 on each of the 25 paylines to risk up to $125.00 per spin. At the low end, you can wager as little as $0.01 on each of the active paylines you're using. Turn off all the lines and you could risk $0.01 per spin. That's excellent for low-stakes players that want to stretch their bankroll over many play sessions. With the mix of wagering options available it's possible to wager at any level that you're comfortable with.
Fruit Frenzy is a Generous Slot Game
With an RTP (return to player) value of 96.5%, we knew already that this slot is a decent value for gamblers that want to get back as much as they can in prize payouts. It wasn't until we looked through the paytable information that we realized just how generous this slot game can be though. Gamblers that are willing to spend enough time with this game have many different ways that they can win big. The first and most obvious way is through the random progressive jackpot. It's worth the amount of money listed up top and center. The moment you look at the game you'll know how much you could win from the slot from this feature. That's not the only way to win big though. Get five wild symbols for a 10,000 coin prize payout, get five strawberries for 5,000 coins, or five oranges for 2,000 coins. You can also get up to 200x your total wager amount or as much as $25,000 with help from the FRUIT scatter symbols if you get five of them. These exciting prize payouts don't even consider all the different bonus features that this slot game offers either.
Trigger the Daredevil Round with Standard Wins
Getting a five-of-a-kind win using any of the game's symbols is all it takes to turn on the Daredevil feature. This special feature has you launching the strawberry through a target again and again. The more times you send the strawberry through the target successfully you get another point. Your point total determines how many free spins you receive after. Free spins come with double prize payouts of up to 20,000 coins for the wild fixed jackpot payout. Scatter wins are tripled in size as well, which means you could get up to 600x your wager amount with a maximum scatter win. Even though this free spin game is the only bonus feature offered it's a powerful one. If you trigger this bonus you're likely to walk away with more money than you started with, and some players win really big.
Fun and Generous at the Same Time
We just had to give this slot game as 4.6 out of 5.0 stars after reviewing its features. That's one of the highest ratings we've ever given to a video slot game, and it shows just how good this game is. It offers a good return for your money, pays out with huge prizes and it's a lot of fun to play around with as well. We really love the look of this game as well and would recommend it to anyone looking to be entertained or to win big.
Play Any Way You Like
Fruit Frenzy is a slot that's designed to give you all the options you want as you play. No, we don't mean that the game has 500 different settings for you to customize. What we mean is that it lets you play for free, for real money and to also bring the game with you on the go. You can trial the game in demo mode to experience its features without risking your own money. When you're ready to switch to real cash gambling you can do that in mere moments and get the game going once again. If you want to take the fun with you on the go, this game will run on Androids, Apple products and much more flawlessly. It's truly one of the more flexible online slots and that just makes it even better to us. Fruit Frenzy is one of our favorite video slot games offered by Realtime Gaming. They really nailed the balance of fun and value with the game and things look really nice the whole time you play as well. By offering good RTP values while also making the game easy to use we can recommend this slot game to most gamblers as long as they enjoy video slots.