Outer space RTG Slots
Perhaps no other theme is as popular as Outer Space. There are several versions, but the slots below are the best. The graphics are awesome, and the value of the games is undeniable.
Outta This World Slots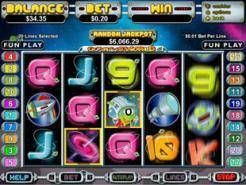 This 5 reel, 20 payline extraterrestrial theme is a Real Time Gaming favorite among online casino gamers. It's easy to see why, too: the outer space theme is a nice change up from Asian slots and Hollywood slots and all the rest. As for Outta This World Slot 's more tangible features, wait till you get a load of the free spins feature, the wild and scatter symbols that serve to enhance the gameplay. Furthermore, if you choose to download now, you'll have a chance to win the random jackpot prize that activates (potentially) at the end of each round of real money play.The free mode is called Instant Play, and is played using the Adobe Flash software that comes embedded in the Firefox and Chrome browsers. The Substitute symbol is represented by the exuberant green space alien; when he shows up, he replaces any other symbol except for the scatter - and dominates reels 1, 3 and 5 to turn them wild. As for the resistant scatter icon, this is represented by an Einstein-Rosen Bridge; which is more commonly known by the Soviets as a frozen star, and by the Americans as a black hole. The physics of such an "object" are mind-boggling; anything that lands on its surface can never escape - not even photons (particles of light!). This is because the gravity is so strong in a black hole that the progenitor star has collapsed space-time around into a mathematical point insofar as classical physics can discern. But all of that aside, the scattered black hole is very valuable:
if you land two black hole symbols on the reels, the associated payout is whatever you bet at the start of the game
for the appearance of three black hole scatter symbols, your payout is triple your wager
for four black hole symbols on the reels, you win an impressive 25 times your wager
lastly, for a full house of five scattered black hole symbols, you get a life-changing 500 times your wager
In Outta This World Slots, you can wager from a penny to $5 per payline, which makes for a maximum full game wager of $100. Obviously, this can lead to really amazing wins for a result of five scatter symbols dominating the gameboard. Download Outta This World Slots today for an Outer Space experience on your mobile gaming device.
Light Speed Slots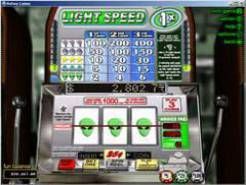 Light Speed is a nice change-up from the 5 reel video slots that are usually churned out by Real Time Gaming. This Classic has 3 reels and a single payline, along with an enticing Progressive that can only be won by real money gamers who download the casino software. Although it has just the one payline, you can bet up to 3 coins on it, which of course widens your options for wagering. The top payout (of the non-progressive variety) is a considerable 7x of your original wager. The coin bet amount is of the fixed variety, which means that a quarter (which is 25 cents for you non-Americans) is the standard bet - but you can bet 75 cents total, or 50 cents in-between. To be in the running for the progressive, you've got to put down the full 3 coin bet for 75 cents per game. There are no wild symbols or scatter symbols in this one, though; there are, however, some multipliers. This is essential given that the progressive is a considerable $700 - which is excellent for a Classic Slot. The top paying symbols begin with a laser gun; play all 3 coins and land three such guns on the reels and you win a 400 coin payout. For three such laser gun icons on a two coin bet, you win 200 coins, and on a 1 coin bet you win 100 coins for three gun icons. The second highest paying symbol is a yellow star. For three of a kind on a 3 coin bet the prize is 150 coins; on a two coin bet this is reduced to 100 coins, and on a single coin bet you win 10 coins for three of a kind of the yellow star symbol. The final low paying symbols are as follows: on a three coin bet, three flying saucer symbols gets you 15 coins. On a two coin bet, the same three flying saucer symbols are worth 10 coins, and on a single coin bet, you win 5 coins for three. Lastly, we have the little green men; for three of a kind pon a three coin bet, the payout award is 6 coins; for two coins bet at the wagering line, three of a kind of the green aliens are worth 4 coins, and a single coin bet produces a 2 coin win for three of a kind. Give Light Speed slots a spin today.