Jumping Beans Slots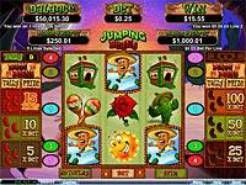 Current Jackpot
$5,329.75
Play Now
Mix up the standard classic slot experience with Jumping Beans, a fun-filled slot game by Realtime Gaming. This classic slot comes loaded with fun features, nice artwork and a blend of prizes for you to unlock. It's packed with character and that's why we reviewed the game and decided to explain exactly what it has to offer you. Below is our overview of the slot, read it to find out if this is a classic that you should try or just another game you should skip over.
Realtime Gaming Made a Classic Slot with a Twist
This game isn't your everyday classic slot game. Realtime Gaming did a nice job of creating something unique and exciting that doesn't play at all like a classic slot. While wagers are pretty limited, and the interface is simple, there are added special features that keep you excited to spin the reels again and again. We love the fun symbols of this slot and how it's packed with little bean characters for you to get to know. Over time with the game you'll come to love and despise these little characters as you try to uncover the best prize payouts possible.
Random Progressives Can Be Won Anytime
This game comes loaded with two progressive jackpot rewards. Either of these can be won anytime that you're playing the slot. At the end of every turn, you have a slight chance of winning one or the other. If you do get a win you could unlock hundreds or thousands in prize money immediately. These are excellent prize payouts considering how low cost this game is to play and that makes them excellent for the low stakes players that will want to test out this slot.
Always on Paylines
There are five paylines in this slot game and they're always turned on. That means you must place wagers in increments of 5. There is a bit of range for you to wager within, but the bet amounts are pretty restricted in this slot game. You can wager a low of just $0.05 per spin up to $1.25 per spin with the maximum bet of $0.25 per line in place. This game is clearly for low-stakes gamblers because everyone else will be disappointed with the maximum wager amount that's allowed.
Prizes are Small Across the Board
If you like slot games with large prizes you won't like this one. That's because all the prize payouts are pretty small overall. The most valuable symbol by far is Mr. Bean the multiplier wild. He doubles any prize payout he helps create and if you get three of them you'll unlock a prize worth 1,000 coins. Next up after Mr. Bean is worth 100 coins on his own and 200 with the help of the wild multiplier. After him is a prize worth 50 or 100 coins, followed by 30 or 60 coins and the rest are significantly smaller in size. With those level payouts as you spin you'll be winning small amounts here and there as you play this game and big wins just aren't going to happen in a single spin. With that said, this game pays out very regularly and could be the perfect option for gamblers that like to get wins frequently.
Double Pays with the Auto Nudge Feature
Along with paying out frequently, there is also an Auto Nudge feature that results in some double paydays. Any time a Mr. Bean or Mrs. Bean symbol is above or below the reels by one, they will get nudged onto the reels after the original payout is awarded if there is one. Once nudged there is another opportunity to earn prizes and you can get double payouts if you're fortunate.
Unlock Added Wins in the Bonus Beans Feature
Get three Mrs. Beans symbols anywhere on the paylines of this slot game and you'll trigger the impressive and exciting Bonus Beans feature. This is the main reason to play this slot game and the trick to unlocking some very impressive prize combinations as well. During this bonus round, you'll enjoy 10 free spins and have a chance to tally up an additional prize at the end as well. Every time that you get a bean symbol one of the reels during this feature you'll get another bean added to your Bonus Beans Tally. Every three beans you add to the tally will increase the fixed payout prize that you get at the end of the round. The prize starts at 5x your wager amount and climbs up to a maximum of 100x your total wager amount. That's a pretty significant prize on top of the wins that you get throughout all those free rounds. The Auto Nudge feature remains active during the bonus rounds and will lead to many more beans being added to the tally in most instances.
Small Jackpots but Solid Mobile Support
Many slot games are defined by the size of their jackpots. If you're looking for large jackpot payouts you'll be dissatisfied with Jumping Beans though, because the game just doesn't offer that much even for its largest wins. With that said, this game pays out often and it's made to play from anywhere and on any device. You can easily load the game up in a web browser and try it on a phone, a tablet or a computer. This game is so versatile that you'll find yourself playing it whenever you have some downtime and there is a reasonable internet connection around you. That's the type of game that gamblers are looking for today, and it's a feature that we like about this slot game.
Demo it or Play with Real Money
This slot game is so affordable that you can start off playing with real money if you like without losing too much in the process. If you're worried about risking your bankroll, you can always play in Demo mode as well to try things out without risking any money at all in the process. Both play types are available at all times at any Realtime Gaming casino, which gives you the flexibility to wager the way you want. We tested out all the features of Jumping Beans and tried this slot over hundreds of spins. During that time we came to love some features and despise others. The game just doesn't offer large enough prize payouts and begins to get dull over time. Because of that, we couldn't bear to give it more than a 3.7 out of 5.0 stars. That's still a halfway decent rating though, and that's because this game pays regularly, it has a nice look and it's loaded with character. It's actually fun to play, especially at first. We recommend you try it for yourself, you might just fall in love with it as some gamblers do.