T-Rex II Slots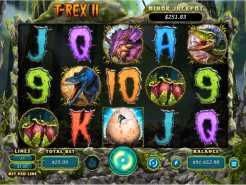 Current Jackpot
$3,170.23
Play Now
Head back to prehistoric times when dinosaurs roamed the earth in T-Rex II the online slot by Realtime Gaming. This 5 reel slot was designed to create large combinations of wins, to have a dynamic feel and to be a lot of fun. We were drawn in by the excellent art of the slot but stuck around for the features. Learn more about what stands out about this slot below.
Realtime Gaming Nailed the Fun Style
T-Rex II has a distinct fun style that's bright, cheerful and exciting. It's the type of game that dinosaur fans will fawn over and that's because of the forest backdrop and beautiful cartoon symbols that popular this slot. Even the buttons of the game fit the theme well and are slightly animated. This slot isn't over the top, but it does look very nice.
It's Simple to Play
There aren't many options other than the wagering options, autoplay feature and speed settings, and that means you can play without confusion even if you aren't very familiar with slot games. Take a moment to get familiar with the different payouts of this game and you'll know all you need to do enjoy your time with this game.
Minimal Wagering Limits
There are a total of 25 paylines in this slot game and you can turn each line on and off as you see fit to take things down to 1 line or up to the full 25 while playing. Each active line will cost you a credit to spin on, and credits are valued at between $0.01 and $0.10 each. That's where the severe limitations of this slot game's wagering system come into play. With a maximum bet of just $0.10 per line, you can't wager more than $2.50 per spin while playing this slot. That's just not enough for mid-level gamblers and high-rollers won't want to go anywhere near this slot game. With that said, it's still a decent option for low-stakes gamblers that don't want to wager more than $2.50 per spin. You have a lot of control over your wager amount and can bet at a level that's comfortable the entire time you play.
Expanding 2x Wilds
Each time one of the T-Rex wild symbols shows up on reel 1, there's a chance that he will eat the other dinosaurs and scatter out throughout the other reels. This is a big deal because this symbol takes the place of all but the scatter and doubles the value of any win achieved. It won't eat dinosaurs every time they appear on the other reels, but there is always a good chance that this special feature will activate and you'll get some seriously good prizes from it.
Win More with the Progressive Jackpot
There are two different progressive jackpot prizes at any given time while playing this slot game. The first of the two is worth hundreds of dollars and is the Minor jackpot. The second is the Major jackpot and is worth thousands of dollars. Both of these jackpots are active all the time and they can be triggered after any spin while you play this slot game. Get enough luck and you could unlock one of these handsome wins. The best part is that they will trigger even if you are wagering the minimum while playing. That's a big win for low-stakes bettors to hope for.
Free Games Come with a Continual T-Rex Terror Bonus
Getting three or more of the scattered egg symbols is all it takes to trigger a free spin bonus round in this slot game. It doesn't seem all that exciting at first because it seems basic. That is until you realize that the T-Rex Terror feature is activated the entire time! That means for those 10 to 100 spins anytime a T-Rex symbol appears on the first reel it will eat all the other dinosaurs and take their place. You will have times when most of the reels are covered with wilds from this feature, and that's when you'll win big. It's possible to unlock additional free games during this feature with three or more scatters to keep the fun going for even longer.
A Just Okay Paytable other than Scatters
Other than the scatter symbols there aren't many payouts to get excited about while playing this slot game. You can win up to 200x your total wager with scatters, but the biggest fixed payout is worth just 2,500 coins if you get five stegosaurus symbols. The next prize is worth 1,250 and the third is worth 1,000 coins. Between these three top payouts and the scatter you do have some decent wins to shoot for while playing though, and things get better in the bonus round.
This Game Offers a Solid Top Payout
It's possible to earn as much as 5,000 coins per payline that you play with this slot for massive prize paying potential. That's a whole lot of cash for you to play for and it's certainly an amount of money that you should be trying to win as a slot player. If you're interested in wagering for big payouts, this game isn't a bad option as long as you don't mind playing for prize combinations rather than one massive payline win.
For Fun or For Real Money Both
Like most of the Realtime Gaming creations, T-Rex II is available to play for free if you like or to play for real money. The difference between those two options is decided just by looking at the
Try Mobile Gaming with This Slot
There's no need to limit test runs of this slot game to a full-sized computer. The whole game is optimized to run on smartphones and tablets too. That means as a gambler you're free to take the game with you where you go. This slot runs in a web browser and doesn't require any sort of software download to use. This makes swapping from one device to another quick and easy to do as well. After testing T-Rex II fully we're pleased with many of the game's features and haven't found much we don't like about the game. The expanding wild feature is an exciting one and opens up loads of opportunities to walk away with more money after a spin. Payouts aren't massive, but combinations of prize wins are common with this slot game and lead to some seriously good payouts. It's because of the features of the game and the graphics that we give this game a 4.4 out of 5.0 stars. Payouts could be larger and there could be a multiplier on the bonus round, but other than that we are very pleased with this game and highly recommend it.