777 Slots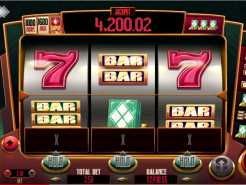 Current Jackpot
$4,893.60
Play Now
777 is a straightforward classic slot game wit ha twist, and it's that twist that made us want to make this full review. On the surface, the game looks like a modern classic slot that plays very simply. When you consider that it adds in a hold feature you won't find on many other slot games, things become a bit more interesting. We urge you to try this game for yourself, or at least to get more familiar with it through our review to see if you like it or not. This slot has some nice features to offer, but it won't be for everyone. Try it for yourself or follow along to learn more about the game here.
A Simple Mobile-Friendly Creation
While we'll be the first to say that the design chosen for this slot game isn't exciting, 777 is a simple and straightforward creation made by Realtime Gaming. The game is designed with just basic controls and one of the simplest wagering setups we've ever seen. You can clearly see all the different winning opportunities on the paytable at the side of the reels and from the second you start you should know how to play. This simple game is practically designed for mobile devices, especially when they are tilted in the landscape orientation. Large buttons and simple controls make it easy to wager and spin the reels on this slot using a smartphone or tablet from most makes and models.
Make use of the Novel Hold Feature
Even though the game is designed with simplicity in mind, 777 comes loaded with a hold feature that would be more at home on a video slot game. It works the same as well. You can spin the reels, hold some of the results and then spin again with the selected reels locked in place. Hold zero, one or two of the reels until the next round. After you hold reels you have to let them go for a round before you can hold them once again. Make sure you're holding the most valuable reels of symbols to give yourself the best chance of unlocking big prize payouts. After trying this slot for some time we were disappointed when we moved to other games without the hold feature.
Just a Single Payline and Basic Wagering
There's only one payline in this slot and you can't wager more than a single coin on the line either. That makes wagering as simple as you could imagine, but that doesn't mean you're limited to just a few betting options. No, in fact, you can wager from a low of $0.10 per spin all the way up to a truly massive $200.00 per spin. This absolutely huge upper wager limit takes some of those smaller prize payouts and makes them much more interesting. It's very rare to find a classic slot game with such a high upper wager limit, and that feature is one of the reasons that we recommend this game over most other classics to high rollers. Just use the adjustment arrows to move your wager up or down until you've reached the amount you're most comfortable with. It couldn't be any easier!
Small Payouts and Simple Gameplay
This game is so easy to play you'll marvel at how much simpler it is than even a standard video slot. It also offers pretty small prize payouts, but with an RTP value of 97%, you'll unlock wins frequently. That makes this slot game good for gamblers that want to achieve good value for their money and that like winning prizes frequently. You aren't going to get rich from a single prize win, but you could go on a winning streak that leads to some dramatic results given enough time.
No Bonus or Free Spin Rounds
Unlike most other modern slots, this game doesn't offer any sort of bonus features or free spin rounds for you to unlock. Instead, you just spin reels the same way every single time and try for the standard wins. Nothing could be simpler or more relaxed for a classic slot player, but gamblers looking for interesting features will quickly become bored of this simple game.
This Game is Just Okay
Even with the stellar RTP value of 97% and some decent prize wins, we can't give this slot game a huge rating. We still decided to give it a 4.0 out of 5.0 stars because of how generous the game is, but had to take away points for lack of style, lack of features and for growing dull very quickly. The game is worth it to play if you enjoy classic slots, but otherwise, you should look for something more exciting to play around with.
Win Thousands in Cash
There are thousands of dollars up for grabs when playing this slot game, you just have to get lucky enough to unlock all that money. You could win thousands if you have a large wager in place and unlock one of the big prize payouts, and even more, is up for grabs from the progressive jackpot payout that comes from three of the card symbols, but most of the time you're going to be unlocking the smaller and more standard prizes.
For Fun or Real
This game will work as a real money slot just fine and can be played that way at any Realtime Gaming casino found online. That's not the only way you can play though. It also works as a free-play slot when in Demo mode. If you're looking to test it out without risking too much cash in the process, you can very easily try this game without spending real money to do so. Just turn on Demo mode and start playing from there. 777 is a pretty generic classic slot game but the hold feature helps add a bit of novelty to the wagering experience. If you want a slot with a different option to play around with and a bit more control than most standard classic slots, this might be the game. It has a dull theme and lower prize payouts though, which really stands in the way of this game being something special or exciting. Try it out for yourself, and you might end up liking it more than we did. It's worth a test just to see though.