Crazy Vegas Slots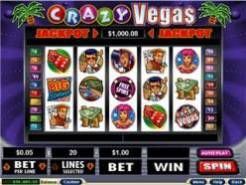 Current Jackpot
$4,601.62
Play Now
Crazy Vegas is yet another Las Vegas themed slot game. This one is made by Realtime Gaming and while it doesn't look visually impressive we have a feeling there are some fun features hiding away in this slot game. So sit down with us and take a trip out to Vegas. Follow along with our complete review to see the features of this slot, potential prize payouts and to find out if there is more to enjoy than the somewhat poor graphics let on.
An Older Realtime Gaming Creation
Realtime Gaming is known for its creativity and for making cutting-edge slot games. This isn't quite as obvious with this older title because the theme of the game has been used many times since and the symbols aren't all that great to look at. The game symbols are all very unique though, and if you can look past the older style of graphics you can see how this slot would be charming to look at. That's all thanks to Realtime Gaming and they're excellent design team.
Try it Before you Buy it
It's not necessary to spend money to experience the features of this slot thanks to the addition of Demo mode. The game works properly without any real money investment and can be played in all its glory even if you don't have a real gambling balance at all. To try Demo mode just click on the game at an RTG casino and choose Demo mode. Once you do that the game will load up like it's supposed to and you can play it from there without any money. Any wins or losses occur in play money and you can reset the balance to keep playing even if you lose it all, so bet big, have fun and get familiar with the game's features with help from Demo mode.
It Looks Outdated
If you choose slot games based solely on looks, you won't be impressed with this older title. It looks dated and the little symbols are nicely designed, but not stunning. They have their own charm and it's nice-looking at pictures that don't look like any that we've seen before, but there are much better-looking slots out there. Now, if you don't care about having access to the best looking slot game available, you might care about how neat and orderly this slot is. There are very few adjustments, and the different settings and options are limited and nicely laid out as well for simplicity's sake. New players won't be confused by this slot game, and that's a good thing if you care about being able to load up the game and get going immediately.
Flexible but Unimpressive Wagering Options
Crazy Vegas is clearly a low stake gambler's game. That's because the maximum wager amount you can lay down per spin is just $5.00. That's nothing to a high-stakes gambler and it's not going to be enough for many players to even bother trying this slot. With that said, if you're the type of player that doesn't want to risk more than $5.00 per spin of a slot then this game is a pretty decent option as far as betting flexibility goes. You get 20 paylines that you can turn on and off. You can adjust the value of each of those lines all the way down to $0.01 each and up to $0.25 each. For a low-stakes player, it doesn't get any better at all in terms of flexibility and you should be able to get any sort of wager that you want in position. You just can't be a high-stakes gambler for this game.
A Slow Paytable with an Exciting Jackpot
This slot game isn't designed to make you rich, and that's obvious from the maximum prize payout of 300x from the stacks of cash symbol. This isn't very large at all compared to what other slots are offering as prize payouts and can make the game feel a bit slow. Huge prize combinations aren't likely while playing this slot either, and you'll be left hoping for the progressive jackpot for a sizeable payout. That's worth thousands of dollars and you just need to get lucky to win it. It's awarded randomly and can be won during any spin of this casino go.
Win Big Using the Big Bonus Game
Get Big Bonus symbols on the first and last reels and you'll trigger this special game. This wheel-spin game is simple to play but it adds some much-needed variety and entertainment value to the slot. When you trigger the game you will be tasked with spinning a wheel and stopping the wheel. The inner and outer wheel values determine the overall multiplier that's multiplied by your total wager amount. This bonus round can amount to some impressive wins and is one of the best ways to walk away with a stack of cash from this slot. It doesn't occur very often though, so you'll have to be patient and wait for it to trigger.
Free Spins with a Multiplier
By far the best feature of this slot game is the free spin bonus round. In order to trigger it you need to get three of the Free spin chips on the reels at the same time. Do that and you'll enjoy a large number of spins with a multiplier on every win. The sum of the first two chips is how many free spins you get. The value on the third chip is the multiplier that you'll enjoy as you go through the spins. This is the most valuable features of the game easily, and the free spin bonus round is where most of the biggest wins come from when playing this slot. If you are patient enough to spin until you reach this bonus round you'll be happy that you took the time because it's a lot of fun.
Not the Greatest Value
Just looking at the RTP (return to player) value alone this slot game isn't a good option for any gambler that wants good odds of winning big. That's because it only offers a 94% RTP value. With some slots offering as high as 97% or 98%, it's hard to recommend this game if you value a return on your investment at all. RTP isn't the only factor when deciding on a slot game though.
Rating this Slot Game
This slot isn't the best-paying, the nicest looking for the most exciting to play. There are other options for all of those things. It's a nice balanced progressive jackpot game though with a bit of each of those things. That's why we give this game a 3.0 out of 5.0 stars. It's not a bad game, it's just not exceptional. If you want a game with decent features, some high-paying rewards and just the right amount of fun while still being very simple to play, this is a good fit.
Play for Entertainment
If you just want to play the slot without risking money you can do that. There's a Demo mode that works well for sessions that are purely for entertainment purposes. If you would like to give the game a try for the first time, or you just want to spend some time with the game without risking real cash it's simple to do. Select Demo mode and start playing just like that.
Play for Real Money
When you're ready to up the excitement of this slot game and try to uncover some of the big wins that you can get while playing, swap to real money and start wagering. You can play for real money with a free account and a deposit made into that account. Choose the right deposit method and your account will be funded and ready to go in less than an hour.
It Works on Mobile too
While not every gambler cares about wagering on a mobile device, there are certainly plenty of gamblers that want to place wagers on a smartphone and gamble from wherever they are. That's easy to do with this slot game. It runs in the web browser of mobile devices and can be loaded up and played very easily. If you're interested in gambling from different locations, load this game on your mobile device and you'll be ready to go. Crazy Vegas isn't one of the best slot games out there. The prize payouts aren't exciting, the bonus features don't offer that much potential either, but it's decent. You can get some decent wins and the slot offers a progressive jackpot that could be triggered at any moment while you're playing. If you like the look of the game and you just want a simple slot to play around with this could be a good option. If you're searching for the highest paying, best looking or most rewarding slot game available, this isn't it.