Sea Captain Slots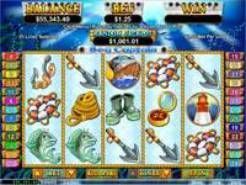 Current Jackpot
$4,601.62
Play Now
Take on the role of an old salty sea captain and dredge the ocean depths for fish and more in Sea Captain the slot game by Realtime Gaming. This slot has a beautiful underwater backdrop, bright and well-drawn fishing symbols and a pretty nice mix of features and prizes. All of these elements make the slot worth looking into and we encourage you to see our full review or test the slot for yourself because there's a lot to like about this game.
A Realtime Gaming Development
Sea Captain was made by Realtime Gaming and we aren't surprised. They're known for making beautiful looking slots that work well, and that's what you get here as well. The game is also compatible with different mobile devices and can be loaded up easily to play on the move.
Try it For Yourself
With new gamblers in mind, this game runs in a special Demo mode that won't require you to spend any money at all to play it. Instead, you just have to open up the slot and start spinning the reels for fun. It's easy to do and you'll get to play around with all the standard features that come with the real money version of the game. That's one nice thing about playing this game for the first time. You can find out if you like it or not while preserving your full casino balance.
A Serious Fisherman Theme
Everything about this slot game screams serious fisherman on a journey to land the big catch. There are spears, fish, life preservers, a lighthouse, a compass, the fisherman himself, a fishing boat and more. You'll know immediately that this game is all about fishing once you play it and it looks really nice too thanks to the beautiful unique symbols.
This Progressive Jackpot Offers Serious Prizes
We were pretty impressed with all the different prize-winning opportunities of this slot game. You can literally walk away with as much as 10,000 coins just during the base game without any special features activated and the next best payout is worth 5,000 coins followed by 1,000 coins for third best. There's also a scatter worth 200x the total wager amount that could land you as much as $25,000 with a maximum wager in place. In order to get the best-fixed payout wins you need to combine the wild squid with the high-paying symbols. That's because the squid doubles any prize wins when it's involved in the combination. If you're lucky enough to unlock the free games feature you can triple prize payouts and raise that top payout from 10,000 coins to 30,000 or as much as $150,000 in cold hard cash if you're betting the maximum.
Betting is Easy
Wagering is as easy as moving the line bet amount up or down and selecting or de-selecting the lines you want to play on. Adjust both of these options and move the value of your wager from a low of $0.01 to a high of $125.00 per spin. That's quite the range and it's more than enough to make for a good wagering experience no matter what sort of player you are. Just make sure you wager the perfect amount for your bankroll and your risk tolerance and you'll improve your wagering experience as a result.
A Basic but Rewarding Free Spin Round
Triggering the free spin bonus round isn't that difficult to do and you only need to get three or more scatter symbols to do so. You'll start off with 7 free games and each time the captain shows himself you get an additional game. There is no way to re-trigger the bonus game while on free spins and every win you get during the round is tripled. The biggest payouts normally occur during this bonus game and it's what gamblers will be hoping for as they play. It is very simple though and not as fun as some other bonus games.
Our Honest Rating
After examining all the features of the slot, we can confidently give it a rating of 3.8 stars out of 5.0. this is a decent rating and we like this slot because it looks nice, it pays well and it's decently entertaining. We wish it had more features to mix things up a bit, but even without any extras, it's still pretty enjoyable to play and well worth a try or two.
Play with Real Money or for Fun
As you play this slot game it's up to you whether you want to risk money or just play for entertainment purposes. If you're looking to maximize your fun and try for big wins you should turn on real money mode after creating a membership and funding it. If you're interested in playing and don't want to risk money just switch to the Demo mode and play like that. Either option is possible and easy to put in place with this slot game. Sea Captain is a good video slot with nice graphics and solid features. It's a slot that we play even when we aren't writing reviews and it's a game that you can win large prize payouts on as well. It isn't for everyone though. Players searching for games with lots of features are likely to become bored over time and anyone that isn't fond of the theme and look of the game will likely grow tired of it as well.