Mystic Dragon Slots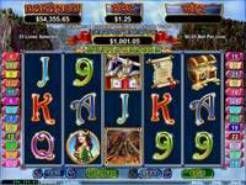 Current Jackpot
$2,007.23
Play Now
Mystic Dragon is the slot journey of a lifetime. It challenges you to take on the role of the brave knight and to fight your way past dangerous obstacles to best the dragon and escape with the beautiful woman and the treasure. It's a fun experience and a very valuable one if you're fortunate enough to get a big win. Serious gamblers will like the features offered with this slot, but even those brand-new to online gambling can come to appreciate this slot. Give it a try to see why we enjoyed our time reviewing it, or learn from this review and make your decision about the slot using our advice.
Demo This Fantasy-Filled Progressive Slot
Journey to ancient lands as the brave knight and try to save the beautiful maiden from the clutches of the dangerous dragon. Mystic Dragon is set in medieval times, it showcases smoking volcanoes, a beautiful woman, an angry dragon, chests of treasure and more symbols that you would expect in the tale of an old knight. This slot is a progressive jackpot with a random jackpot worth thousands of dollars. It has just two adjustment arrows at the bottom of the screen, a spin button, and an Autoplay button and that's it. If you're unsure of this slot you can demo it for yourself, but Realtime Gaming did a nice job making it easy and nice to look at all at the same time. Demo mode is free to play and offers the full experience of this slot game if you're looking to get more familiar with it.
A Basic Layout You Can Learn in Minutes
Some slots are needlessly complicated, others are two simple with no controls you can adjust. Mystic Dragon falls squarely in the middle of those extremes with just the right number of controls without being needlessly complex. You'll understand what every button does the moment you start playing, and after a short play session, you should understand the paytable and bonus features as well. We like that sort of simplicity.
Choose Your Paylines with Care
One of the most important decisions that you can make while playing this slot game is the number of active paylines you wager on. There are 25 in all and you can bet between $0.01 and $5.00 on each. The lines can be turned on and off and that gives you lots of flexibility to play around with from one round to the next. Turn all the lines on for a maximum wager of $125.00 and increase your odds of uncovering a prize-paying set of symbols on any given round of this slot, or turn the game down to just a single line, minimize your wager to as little as $0.01 per spin if you like and preserve your bankroll for days, weeks or longer.
The Prizes are Only Great with Help from the Dragon
We know that this slot is all about conquering the imposing dragon, so it seems a bit strange that the best prizes are only possible with help from the scary figure. The dragon wild is a 2x multiplier, and that multiplying effect stacks up to an amazing 8x with three wilds in position. That's why the biggest prizes are only possible with help from the dragon himself. The knight on his own is worth 2,500 coins. With the dragon, the combination is worth up to 20,000 coins valued at up to $100,000. The maiden is a mere 1,500 coin payout on her own. With the dragon, she's worth 12,000 coins or up to $60,000 if you're a big bettor. The castle is a mere 1,000 coins or up to $5,000 on its own. With the dragon, you could be the proud owner of 8,000 coins or more. The dragon takes the place of all but the scatter symbol and shows himself on the three central reels of the slot. Oh, speaking of scatters, you can get up to 500x your total wager amount from scatters if you get all five at once. That's a potential value of $62,500 if you're betting the maximum amount. There is a lot of money to be won in this slot game, but most of it comes from the dragon symbol so you'll be glad to see the wild as often as possible.
Win Rates Go up in the Free Spin Game
Getting three or more volcano scatters is what you'll have to do to unlock the free games bonus round. Do that and things will get really crazy. You can get 7, 15 or 100 free spins depending on if you get 3, 4 or 5 scatter symbols to trigger the round. During those spins, dragon wilds become grouped which means more frequent multipliers and prize payouts. Prizes also get doubled in value. That means you could become very wealthy with a big win during the bonus round. Even though this slot game doesn't have the highest RTP we've ever seen, the bonuses and prize payouts are some of the best that we've encountered thanks in part to this bonus round.
Decide Whether to Play for Fun or Cash
Not sure if this slot is the right one for you? No worries, you can play it for free if you like. The game runs in a demo mode so you can load it up without having any actual money in your casino account at all. Once you are comfortable with the game and all its features you can swap to real money play in mere moments and start trying for one of those huge prize payouts. With the jackpots available even small wagers can result in some substantial payouts with enough luck.
We Rated the Slot
Mystic Dragon has an RTP - return to player value - of 96%. That means you'll get back 96% of the money that you wager on this game in the form of prize payouts on average. That's a pretty decent return compared to other slots, but not the best we've ever seen. With that in mind along with everything else that we discovered during the making of this review, we decided to give Mystic Dragon a respectable slot score of 4.0 out of 5.0 stars. That's not bad at all. The big payout potential of this slot will appeal to gamblers seeking online fortunes. Players just looking for fun should be entertained by the game as well. There's nothing very novel about this slot though, including the graphics, which is the main reason we didn't give the game a higher score.
This Instant Play Slot is a Mobile Gamer's Dream Come True
Like many modern Realtime Gaming titles, this slot runs in a web browser exclusively. There is no software to download to play it and you can get all the features working for the game just by navigating to the site on your device. That means you don't have to worry about compatibility issues when on Android, Apple or Windows products. Full computers, tablets, and smartphones should all run this slot equally well as long as they have a modern web browser. That means you can play on anything you want and you can even switch devices while playing if you like.

Mystic Dragon is a fun slot and it's something we would play even after finishing the review which isn't something we can say about many other slots. It's not recommended for players that like unlocking prizes frequently, because wins tend to be larger and less frequent. Players that want to win big and don't mind waiting for a payout will have a good time with this Medieval-themed game though.