Golden Retriever Slots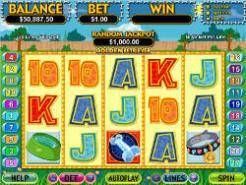 Current Jackpot
$1,281.13
Play Now
Friendly, loyal, and adorable, the golden retriever is a dog that continues to hold a soft spot in our hearts, but now there is a new way to play with this lovable dog, through "Golden Retriever Slots." Powered by Real Time Gaming, "Golden Retriever" is a 5 reel, video slot with 20 friendly and rewarding pay lines. As the name suggests, this is a dog themed game, with the setting taking place in a lush, backyard, with plenty of space for the golden retriever to run around chasing for diamond doggy bones and collars. What can be better than one dog? How about two. From time to time, the lovely Delia, a dachshund dog will make random appearances to help the golden retriever find the collars and diamond doggy bones.
About The Game Symbols
All the symbols are dog related in "Golden Retriever Slots." The wild symbol is represented by the adorable, golden retriever itself. Landing this symbol will replace all other symbols, except for the scatter. This symbol only land on the second, third and fourth reels, and when it does land, it will double winning combinations. The diamond bone represents the scatter symbol, and it will land on all the reels. Landing three of these on a reel will net a winning multiplier between 3 and 250, and if you land the 250 multiplier, then you are on your way to winning $25,000 in a single spin. Landing three of the diamond bones will also trigger the free spins round, where you start off with 10 free spins. During the free spins round, the prizes you earn will be added to a prize pool, and upon the conclusion of the bonus round, you will then start the Golden Retriever bonus round, where this dog frantically digs up winning multipliers from the ground to be added to your prizes. The winning multiplier range from 2 to 20. The other symbols in "Golden Retriever Slots," include the playing cards, nines, tens, kings, queens, jacks and aces, along with dog homes and a dog bowl. If you're ready to spend some virtual time with man's best friend, then all you need is a penny to go digging for bones. "Golden Retriever Slots" also features a progressive jackpot that can be won after any spin. Bets can be placed manually or set up in a sequence through auto play. Man's best friend has never been more friendlier with "Golden Retriever Slots," another gem made possible by Real Time Gaming Software. This title is available to be played instantly online or downloaded at several online casinos.